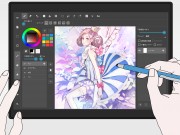 An App that lets users create art or make comics on their Android Tablets
Shibuya, Tokyo, June 22, 2015 (Newswire.com) - MediBang Inc, has released MediBang Paint Tablet, an Android version of their free digital painting and comic creation software, MediBang Paint Pro. The app supports a simple, but easy to use interface and gives users access to nearly all the features available in the desktop versions of the software any where they go.
Focused on making art production more efficient for artists, MediBang Paint, formerly CloudAlpaca, is streamlined and extremely easy to use even on the tablet. Tailored specifically for tablets, most of the interface can be collapsed to allow users to maximize their drawing space. In addition to the features usually found in painting software, MediBang Paint Tablet comes with numerous customizable brushes, layers complete with blending modes, downloadable textures, tones, backgrounds, and word balloons for artist to use. Users can even create and import their own custom materials and brushes. Specifically for comic book artist are tools that let them effortlessly make custom comic book panels in almost any shape they want. Another key feature is MediBang Paint Tablet's cloud storage. This allows user to save their files from MediBang Paint Tablet and easily continue working on them in MediBang Paint Pro on their desktops.
There are a few features that are exclusive to the Android version of MediBang Paint. One is speech to text input for comicbook dialog that removes the need for typing. Another is the ability to customize shortcuts so that frequently performed actions can me made in just one touch. With the ultimate goal of making it easy for creative people to create art worldwide, MediBang has released MediBang Paint Tablet in English, Japanese, Korean, and Chinese (traditional and simplified).
MediBang Paint Tablet is the perfect app for anyone from busy professional artists to people who just want to be able to draw on the move. MediBang Paint Tablet will also be available on iOS this summer and MediBang Paint Mini is planned for release on Android smart phones. Before long with MediBang Paint people will be able to make almost any device their canvas.
MediBang Paint Tablet can be downloaded on Google Play
https://play.google.com/store/apps/details?id=com.medibang.android.paint.tablet
Addtional information can be found on MediBangPaint's official site.
Contact: medibang-pr@medibang.com
MediBang Inc URL: http://medibang.com/
Shibuya Infoss Annex Level 1
12-10 Sakuragaoka-cho, Shibuya-ku,
Tokyo 150-0031, JAPAN
Share: